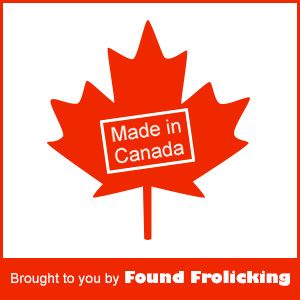 If you are like me and have a hairy, slobbery, ridiculous pup you call a part of your family, I cannot encourage you enough to check out
Head-Lites
and the amazing product they offer. Head-Lites are unique LED collars made for your canine to keep up visibility in the dark. If you'd like to read the review of Head-Lites from a few days ago, you can click
here
. I hope you enjoy learning more about Head-Lites with this interview, as I did!
1. The beginning is always the best place to start! So tell me, who inspired Head-Lites®, and how did it all begin?
The journey began with a puppy named Piper and cold, dark Canadian winters. We spent a lot of time at our local off leash dog park socializing Piper after work each day. As the days grew shorter into the fall, we needed something to help keep an eye on her in the dark. We bought an LED collar which wasn't very bright and promptly fell apart after a few wrestling matches. We bought a hanging drop light which was useless when Piper ran in a direction other than towards us; it also failed to work after a few weeks of use. At that point we engineered our own solution and after months of success with it, other dog owners began to ask us to make them a collar… and thus Head-Lites was born!
2. Was there ever a point when you thought about throwing in the towel and just giving up on Head-Lites?
Oh yes! Many times! Starting up a small company properly and compliantly is far from easy and our small team doesn't always agree on every business decision made. Financially there are huge investments made and money is always a tough topic. When we have those moments of wanting to do away with the stress of it all, we stop and think about how Head-Lites has made an impact for someone and it makes all the tough times worth it.
3. What has changed about Head-Lites since the very first collar prototype that was made?
Piper's first prototype collar was hand stitched with a plastic buckle. The power supply was a 9 Volt battery with a switch and circuit board all wrapped together with electrical tape. Today the collars are machine sewn and we feature an aluminum buckle and a double AAA battery box. The product is still evolving to where we want it to ideally be, but we're getting there as we continue to invest in product development.
4. Is there anything you'd like people to know about Head-Lites?
We're proud to say our company and our manufacturing are 100% Canadian. We source all of our raw materials as locally as possible and every product is individually sewn, soldered, and assembled right in Ontario.
There are some leash and collar companies who claim they are Canadian – the individuals are, but their products are imported from China. "We are Canadian" can be very misleading; consumers need be aware of the value and difference between a Canadian distributor and a Canadian manufacturer.
5. What made you decide to produce Head-Lites entirely in Canada?
LED collars have been on the market for quite some time now, but they are all manufactured offshore. We're seeing the same fiber-optic-style-battery-watch powered collar appear under a variety of different brand names every few months. The factory that produces these actually contacts us weekly. The low pricing and low quality textiles have turned them into novelty trinkets in the pet market. We believe in taking night-time safety for dogs seriously and there should be a product worth investing in to keep our family members safe. Using as much locally sourced materials as possible and local labour builds in a backbone of quality into our products. Pet owners can feel confident in their investment in Head-Lites as a premium safety device while supporting local business and manufacturing.
6. Would you ever consider outsourcing the manufacturing of Head-Lites?
In terms of outsourcing offshore - this comes up quite a bit when we're asked if we have thought about auditioning for Dragon's Den or Shark's Tank. We know the first thing Mr. Wonderful would tell us is to take production to China. There's value in a quality locally made product and we believe Canadians would pay for this value. We've seen this in the consumption side of the pet industry with the number of successful premium Canadian kibble and cookie companies that have popped up. We don't have to take the product offshore to make Head-Lites viable for ourselves and our retailer partners. Manufacturing wise, what's the end product difference between someone offshore and a Canadian with human rights and labour laws? While we currently do all the manufacturing in-house, as we grow, there are a number of local contract sewing and electronic resources we can easily leverage to keep the product "Made in Canada".
7. Is there a wonderful experience or anecdote that's happened during your endeavours with Head-Lites that you'd like to share? A sweet story, a silly one, or a funny one?
Someone suggested we could penetrate the alternative market of clubbing wear with these collars. We're unfortunately too old to do that ourselves and I don't think our friends would appreciate us asking their kids to wear one to the night clubs!
Joking aside, here are a couple of anecdotes that keep us going. We received a letter from a grandmother who purchased a collar for her granddaughter's canine vision dog. In her letter, she expressed how much relief and peace of mind she felt knowing the pair would be safer at night walking across town or the university campus she was studying at. The other nugget comes from our friends at Search and Rescue Dogs Ontario. We worked with them to design a collar that fit their needs. On the first night of the trial run, one of the handlers told us it made her job so much easier not having to worry about where her K-9 partner was in the dark. She could focus on the search pattern grids to make sure she scoured the area properly for any traces of the missing person.
8. You do some really wonderful things for various organizations that could use Head-Lites! What are some that you've worked with that are near and dear to your heart, and why?
We frequently donate our product to local rescue groups for fundraising events and try to help out where we can. All of these organizations are run by volunteers and we really admire their dedication and passion to finding the right homes for all of the animals in their care.
A portion of our collar sales are donated to Search and Rescue Dogs Ontario and it was an eye opening experience to learn about what they do, why they do it, how they do it all on their own time and finances. SAR Dogs Ontario is a group of four dedicated volunteer civilian handlers and K-9 partners who work and train alongside Ontario Police search and rescue teams. They are deployed in missing person cases and are called at a moment's notice to support and replenish low resourced police search operations. In addition to obtaining various certifications, the teams are out training twice a week for 6 to 8 at a time to maintain their certifications. Why do they do it? They love working with their dogs and for the simple altruistic desire of using that K-9 partnership to help others. We often don't hear about these volunteers until someone goes missing. We're humbled that we can support them and also give them a product that helps them do their jobs better.
9. This isn't really a question at all, but I can't resist! Tell us about the amazing person---or people---behind Head-Lites!
We're a husband and wife team with a wonderful support group of family and friends. Troy is responsible for all of the electronics design and assembly, Joanna manages all the sales, marketing and the sewing of the collars. Albertans at heart, Troy is originally from Medicine Hat and Joanna hails from Edmonton. We still laugh at how we've come to this point with starting up Head-Lites when one half of us never wanted a dog.
10. Any exciting news about upcoming products to share?
We're working on a few things for the fall, stay tuned!
Want to learn even more about Head-Lites? Visit there website and see their collection
here
. Be sure to get updated on all their news by liking them on
Facebook
, following them on
Twitter
, and subscribing to their
YouTube
channel! You may also want to check out their latest product,
LED leashes
!!!